Starting a Community Garden in Batangas - The Philippines
Our mission is start a community garden during our expedition to The Philippines.
What is a Community Garden?
A piece of land gardened by a single family is called a home garden. On the other hand, a garden that is gardened and maintained by a group of people from the same community is called community garden.
In general, community gardens are installed in private or public lands, and the families around the garden are benefited by what is produced in the garden.
Helping whose in need
When we visited Batangas, a province where we have our base in The Philippines, we saw many families in extreme poverty. Consequently, many children suffer from severe malnutrition and diseases, not only in Batangas but in The Philippines in general.
We believe that developing a community garden we can help improving community health, ensuring direct access to nutritious food, especially for the children living in the communities around our base.
Our mission with this project is to break cultural chains that deprive human beings of basic human rights, such as good food.
With the supervision of a nutritionist from our own missionary team, we have planned to set up a "pilot garden" in the vicinity of our base in Batangas.
Benefits of a Community Garden
Community gardens increase access to fresh vegetables, fruits and herbs. The people getting involved in the gardens can see the results of their own hard work, taking home a share of what is produced.
Building community gardens also bring benefits to the environment, as it brings the possibility of using organic residues as fertilizers, provided by the local communities.
In addition, a community garden helps strengthening community ties, creating an environmental awareness in the community for maintenance of present and future generation.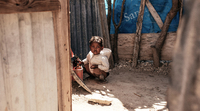 "If anyone has material possessions and sees a brother or sister in need but has no pity on them, how can the love of God be in that person?"

1 John 3:17